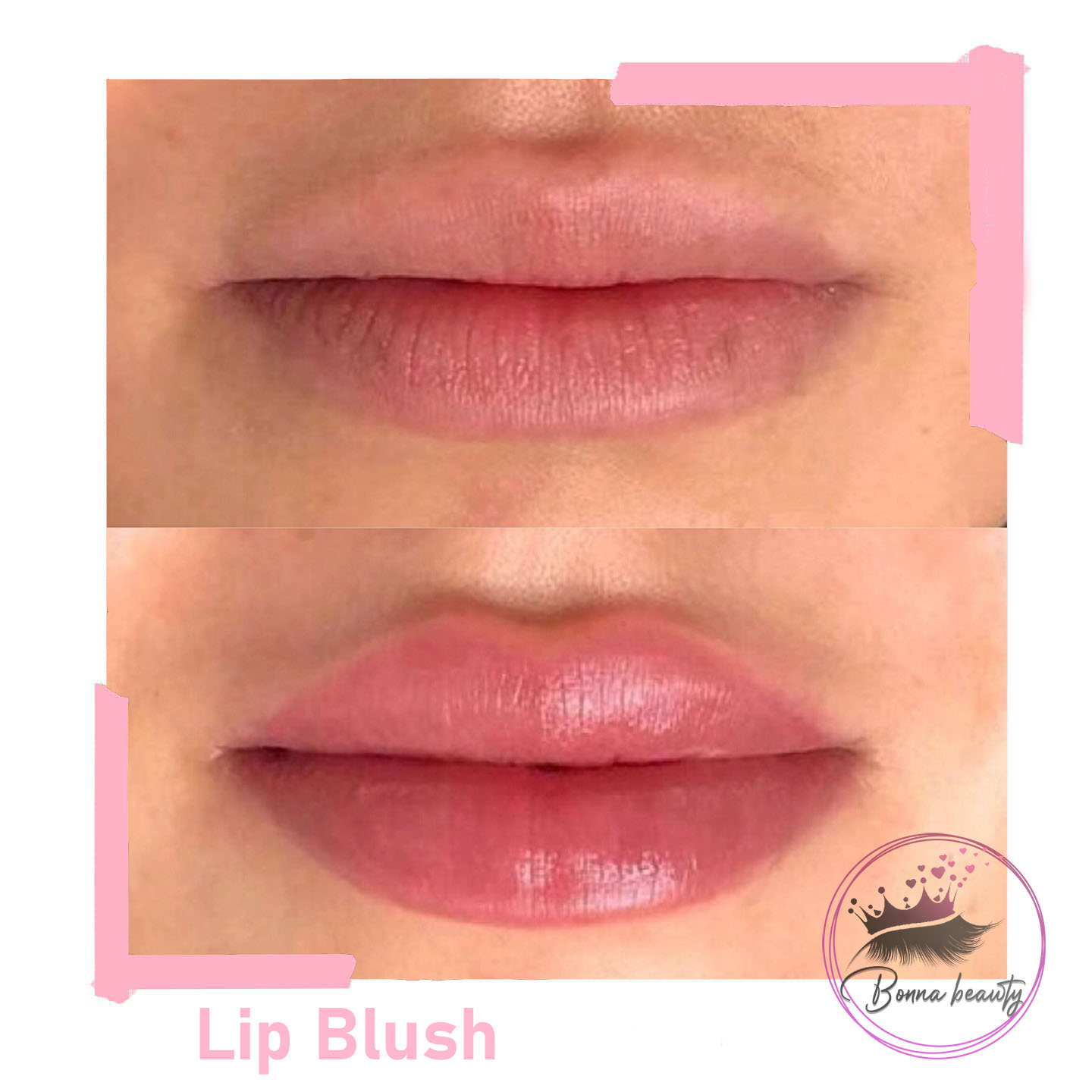 Cosmetic Lips Blush Tattoo for naturally beautiful lips, full of charm, A plump, sexy lips is the factor that creates the attraction to help a radiant smile make the face more beautiful. However, not everyone is lucky enough to have perfect lips. The birth of cosmetic Lips Blush Tattoo method has created a beauty revolution at the top of natural glossy lips and beautiful lips.
In addition to eyebrow embroidery tattooing methods, cosmetic Lips Blush Tattoo is also one of the strengths of Bonna Beauty during the past years. Currently, the lip tattooing method is successfully applied by Bonna Beauty and attracts the attention of women by a team of professionals with many years of experience, high aesthetic taste, bringing satisfaction and peace of mind. Absolutely for customers.
What's outstanding about Lips Blush Tattoo at Bonna Beauty compared to other cosmetic Lips Blush Tattoo technologies? Join us to find out right below!
SO WHAT IS COSMETIC Lips Blush Tattoo?
Lips Blush Tattoo is a method of applying cosmetic tattooing techniques to help women overcome the situation of dark, pale, and poorly shaped lips. Choosing the Lips Blush Tattoo method at Bonna Beauty has helped many women save time on makeup and still own lips with bright colors and natural charm.
With modern tattooing techniques and skillful hands of the technicians at Bonna Beauty, it will bring you a seductive full of plump lips with natural colors. Our tattoo ink is imported directly from the US, Korea, Germany extracted from natural herbs, so you can rest assured when choosing Bonna Beauty as the place to send your beauty to Beautiful natural lip color, very trendy.
Great advantages of cosmetic Lips Blush Tattoo technology at Bonna Beauty
Cosmetic Lips Blush Tattoo is a technique to correct the perfect lip shape in combination with tattooing, creating beautiful natural lip colors to help thousands of women own plump, full of life lips. This method helps to minimize the dryness of lips caused by using long-term lipstick or old tattoo methods.
Go with standard, safe colors, suitable for all ages
Various ink colors are imported from abroad, do not cause irritation or affect health. Made by skillful and talented hands, customers' lips will be elegantly decorated, soft and in tune with new aesthetic trends.
Using tattoo machine special for beautiful and safe from Korean standard technology at Bonna Beauty.
No pain, no swelling, no downtime. Gentle needle manipulation with a micro-nib tip only goes a thin layer on the skin, causing no deep damage, no pain, no swelling, so you can leave immediately without taking time to rest.
Guaranteed safety, long-term effect.
Lips Blush Tattoo technology at Bonna Beauty uses 100% tattoo ink extracted from natural herbs, so it has high safety, lasting effect for about 3-5 years without you needing to use lipstick. lips or any lip balm.
The most popular Lips Blush Tattoo methods today.
Lips Blush Tattoo is one of the most popular Lips Blush Tattoo techniques today, suitable for those who want to improve their less beautiful lips. 3D Lips Blush Tattoo technology helps to overcome dark lips, uneven lips, lips that are too thick or too thin to help you quickly own a full, plump lips with youthful and attractive lip color.
Lips Blush Tattoo technology helps you own a plump, attractive lips
With new Lips Blush Tattoo technique, you will be consulted by experts and choose the right tattoo color to help create outstanding highlights for your face. Then use a specialized lip tattoo machine with a micro-needle tip to put a certain amount of advance tattoo ink into the epidermis of the lips, creating a lip shape with sexy lines.
New tattoo technique is similar to normal lip tattoo methods by using a micro-pen tip to put a certain amount of ink into the epidermis of the skin. However, after tattooing your lips, you will be tattooed with lip gloss to create a full, natural lip effect.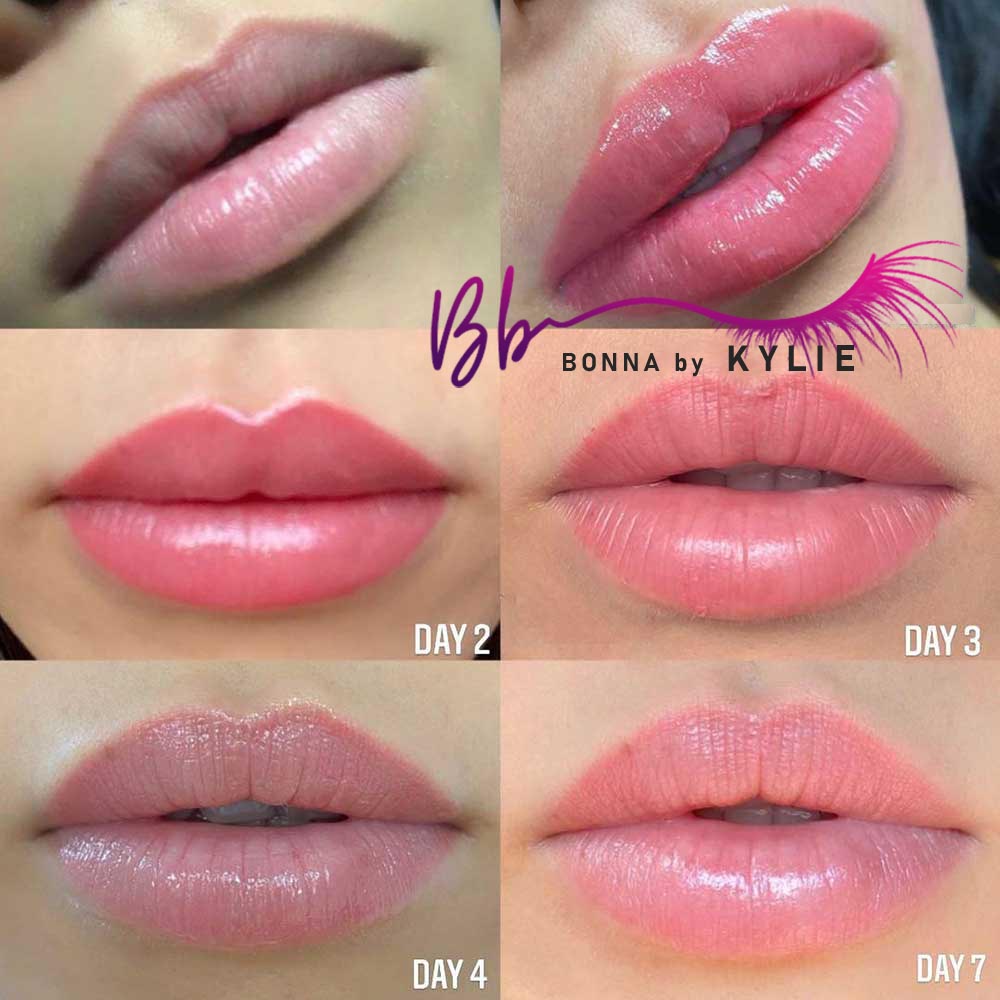 Lips Blush Tattoo process at Spa, How is it performed?
At Bonna Beauty, the cosmetic lip tattoo process is carried out according to the cosmetic tattooing process of the safety standard to ensure absolute safety and long-term effectiveness for customers through the following steps:
Step 1: Visit and consult
You will be consulted by experts on the condition and color method suitable for each customer before proceeding with the service.
Step 2: Clean and disinfect the lip area
To avoid bacterial infection during lip tattoo, you will be cleaned with antiseptic water in the lip area and rinsed with physiological salt.
Step 3: Anesthetize the skin
Before performing lip injection, you will be numbed with a specialized Numbing cream and Korean anesthetic technique to protect you comprehensively, without pain and always feel comfortable during the lip tattoo process.
Step 4: Conduct lip tattoo|
After completing the preparation steps, the technicians will adjust the vibration to suit each person's lip area. After that, lip tattoo will be carried out according to the previously agreed shape and color.
Step 5: Take care of your lips after tattooing
Immediately after completing the cosmetic lip tattoo procedure at Bonna Beauty, you can return immediately without resorting. For the best lip tattoo effect, the experts will guide you with some notes to take care of and nourish your lips at home and schedule a follow-up appointment.
At Bonna Beauty, lip tattoo ink color is a high-quality ink, imported directly from the US, Korea, Germany… completely extracted from non-toxic natural herbs, ensuring excellent aesthetic and safety effects. for customers.
How much does lip tattoo cost?
How much does lip tattooing cost? Always one of the questions that many women are interested in because everyone wants to own a perfect, safe lips at the most reasonable cost. However, cheap lip tattoo at disreputable cosmetic facilities always has the potential for complications, causing harm to users' health.
Currently at Bonna Beauty, the price of lip tattoo tattoo will be offered based on the defects of the lips, the method of implementation, the tattoo ink and the wishes of the customer to offer a reasonable, guaranteed lip tattoo price. Absolutely safe for customers to use.
So where is the safe and beautiful lip tattoo studio address?
Bonna Beauty is honoured to be voted by customers as one of the prestigious Lip tattoo tattoo addresses in Sydney and around Bankstown City. Here we are always ahead of the latest beauty trends, modern equipment system. The division of skilled professionals with many years of experience, trained at home and abroad, is always the most important factor in the success of Bonna Beauty as it is today.
Bonna Beauty is a prestigious address for women to tattoo and tattoo lips.
Bonna Beauty is proud to be the beauty address chosen by 100% of women after visiting. When you come to us, you will be consulted by a team of good consultants to choose colors, draw suitable beautiful models based on hair color, skin color and face, accurate color gamut, giving you perfect lip tattoo results. Natural, lifelike beauty especially maintains long-term results without being invasive, causing no pain or discomfort during the procedure.
25 reviews on