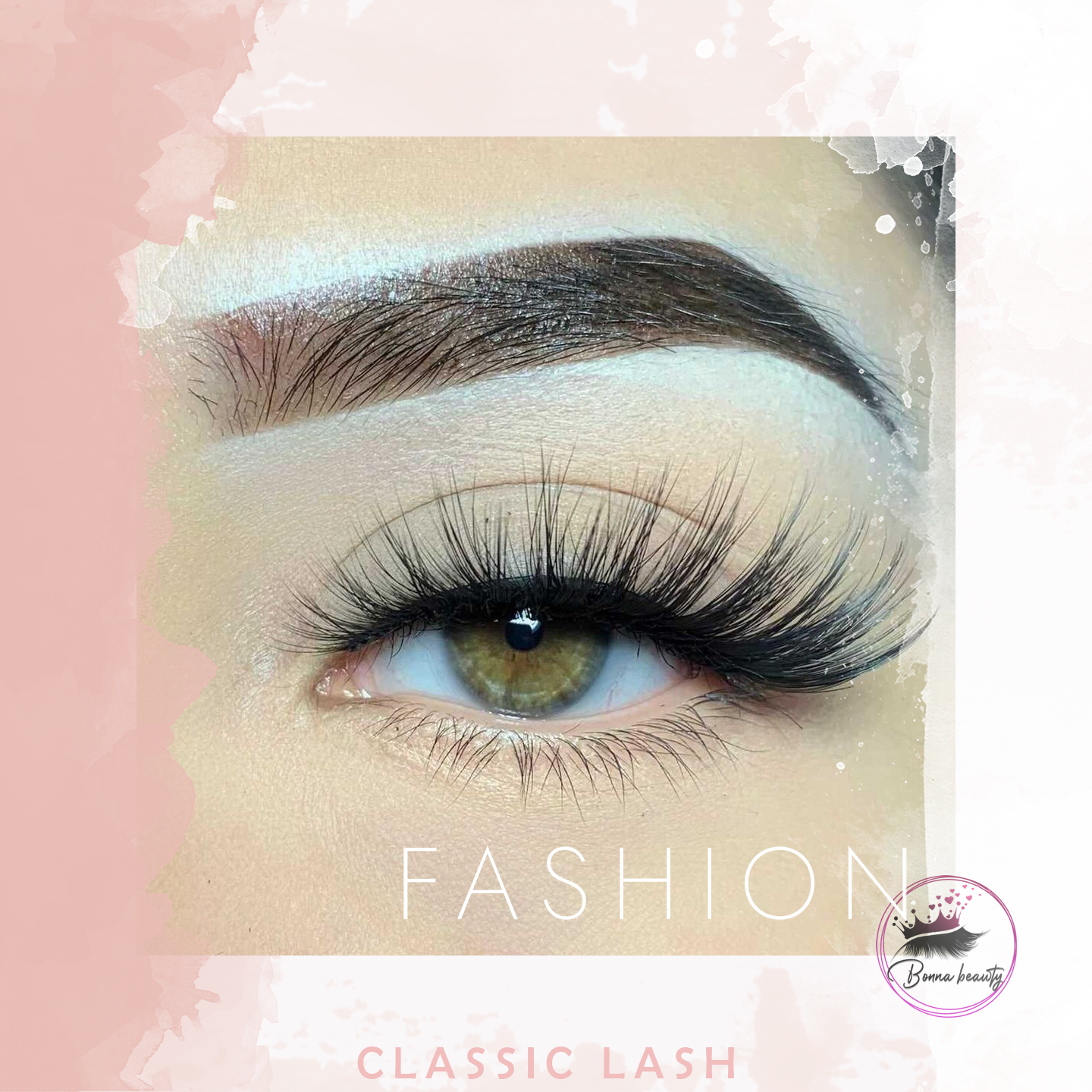 There are three types of lash extensions: Classic, Hybrid, Volume and New modern Wispy. Each type has its own method of application. All three start with the isolation process, which is when you get between your natural lashes with tweezers to avoid gluing your extensions to them
Click to see images
💗 Classic Eyelash Extensions ?
Are a popular natural-looking way to enhance your eyes. They are applied on a one-to-one ratio, meaning one extension is attached to one natural lash. This allows you to achieve the look of lash enhancement without compromising the health of your natural lashes
💗 What are volume eyelash extensions?
They add length and volume to your lashes. The lashes range from 2D-6D, with a 4D being the most dramatic and full. They can be done with pre-made fans or fans can be made by hand using a special tweezer.
💗 What are Hybrid lashes?
Hybrid lashes are a 70-30 mixture of both classic lashes and volume lashes. Choosing hybrid extensions gives your clients the wonderfull of both worlds.
The look is achieved by mixing classic lashes and volume lashes placed strategically to frame the eyes. Hybrid extensions offer a variety of texture and more volume, but without the sometimes-unnatural look of volume lashes.
💗 What Are Wispy Lashes?
Created by individual lashes closed to fans lashes extensions with different lengths and curls similar as Hybrid Lash. but in the way get feathery lashes with noticeable spikes.
Wispy lashes are the trendiest style because they look fluffy and feathery, so very wet attractive. They are perfect for people who prefer a dramatic, makeup look and eyelashes that stand out.
🎀 What's better, classic, hybrid, or volume eyelashes?
It really depends on the look your wants to achieve, budget and the skillset of the technician. Classic lashes require little preparation, so they're more affordable if budget is important to your clients. Volume lashes require a higher level of skill and time investment on the part of the technician, as they handmake the fans beforehand.

💮 Chosing MINK LASHES VS. FAUX MINK VS. SILK material options
🍭 Mink LASH: The most likely natural eyelash extension material. Mink is super lightweight, fluffy, and it mimics the look of your own lashes. Mink can be a good choice. But come with luxury price tags. You'll pay up more than $300 for a set. There's also Unlike the faux mink and other synthetic alternatives, Mink lashes will NOT Maintain a Curl. You'll need to regularly re-curl them yourself.
🍭 Faux Mink: supplies by man-made synthetic alternative to real mink, with a similar lightweight feel. Faux mink is most popular and a better choice for those with allergies or ethical aversions to fur budget-friendly, affordable cost $90 to $300 , still great for the look.
🍭 Silk Lash extensions made of silk are the heaviest and most rigid feeling. Their thickness and luster really pop and stand out, so silk lashes are commonly used for weddings and special occasions. They're also the least comfortable extensions. Pricing is comparable to faux mink lashes.