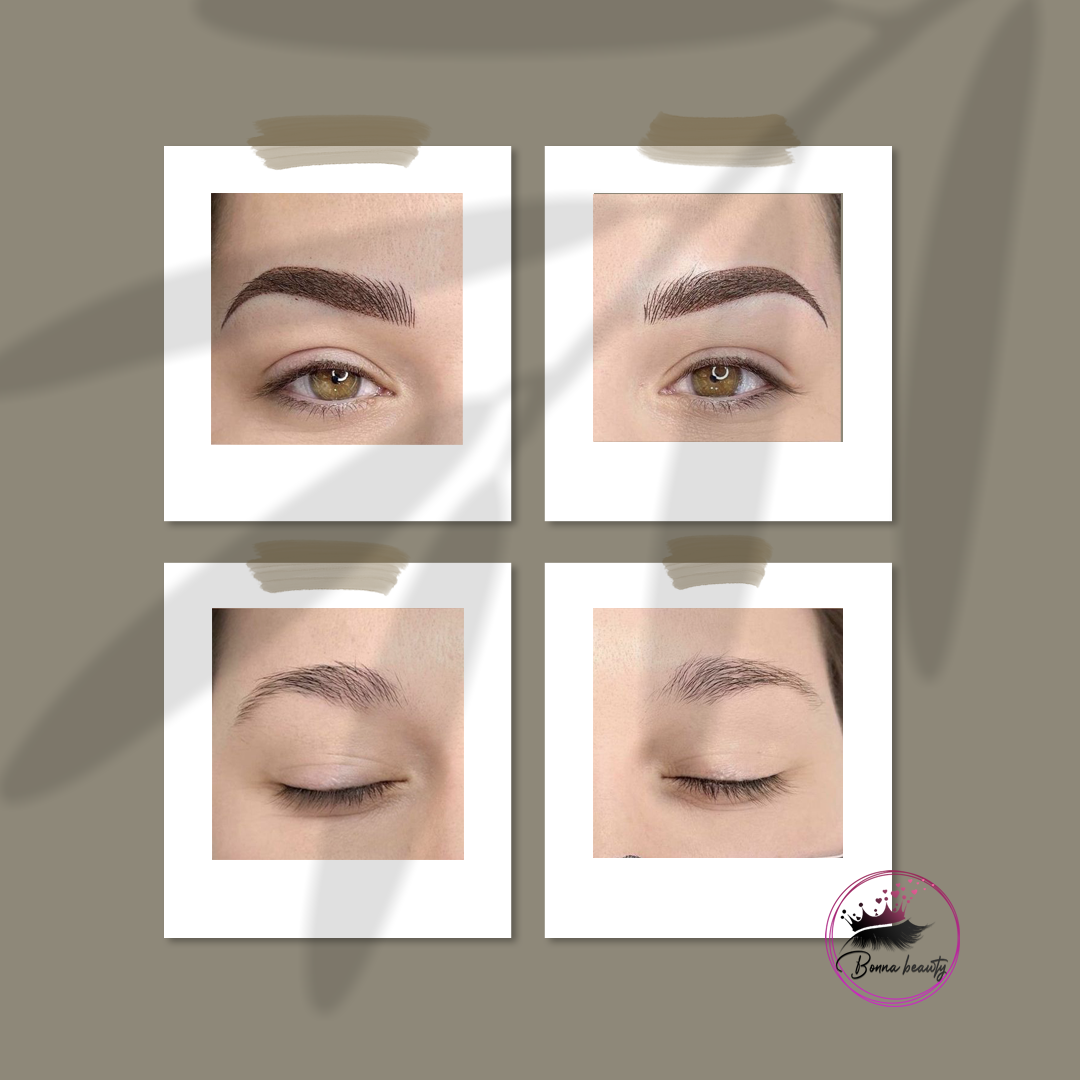 Hair stroke eyebrows tattoo – a natural, surreal eyebrow aesthetic trend is emerging as a "fever" in the past 2 years. With the technique of waving irregular yarns or arranging yarn in a logical, soft, fluttering way like real eyebrows, Hair stroke brows tattooing has received a series of quality reviews from customers about the naturalness that this technique has. bring.

What is NANO Hair stroke eyebrow tattooing technique?
Hairstroke is a soft, flying eyebrow technique that uses specialized machinery in tattooing with a nano-needle to affect the epidermis to create beautiful eyebrows. High-precision Hairstroke technical tattooing machine works strongly and firmly on the skin, no vibration, easy to adjust the depth to help even color and hold hairs better than traditional tattoo methods.
The Hairstroke eyebrow tattooing technique is said to be superior because it gives you perfect eyebrows with natural, soft, long and thin eyebrows.
Hairstroke technique causes less damage to the skin, to ensure the accuracy in each eyebrow, the tattoo technician must be very meticulous to go the fiber to ensure the color pigment is implanted into the skin most accurately.
Simulate the technique of eyebrow tattooing Hair stroke
Outstanding advantages of hairstroke eyebrow tattooing technique
Possessing outstanding advantages, the Hair stroke eyebrows tattooing technique helps you quickly own a satisfactory pair of eyebrows.
Eyebrow tattooing is different from traditional eyebrow tattooing when applying ink to cover the entire eyebrow, with Hairstroke, the tattoer will shake your eyebrows in the most natural way, surreal sculpted eyebrows are hard to find. can realize you have cosmetic eyebrows. With the characteristic of long and soft tattoo hairs alike, this is considered the most outstanding advantage of this "emerging" eyebrow tattooing method.
When performing Hair stroke eyebrows tattooing , customers will be re-applied with a microscopic nano tattooing needle that helps when it comes off, you already own a beautiful natural eyebrow. Over time, hairstroke brows keep the color durable, without any signs of breaking like traditional sculpting.
Beautiful hairstroke pattern
Customers tend to be shy because they think that eyebrow tattooing will easily "fade" quickly over time. However, with the hairstroke eyebrow tattooing technique, customers are completely assured of the color fastness, the ink strokes are deep and precise, creating little fiber expansion, so it can both limit skin damage, but the method of doing it. This beauty also helps you keep your eyebrows lasting over time.
Hair stroke eyebrows tattooing machine with ultra-thin nano needle tip
One factor that determines whether your eyebrows are beautiful and natural, is also thanks to the tattooing tool. Nano Hair stroke eyebrows is a bit different from traditional eyebrow cosmetic procedures, because this method requires specialized machines and high-quality, high-quality tattoo injectors. High-end tool designs are of great importance as they affect the absolute precision of each "tattoo".
The capacity of these tattoo inkjet machines also has many outstanding advantages compared to conventional tattoo ink machines. If traditional sculpting takes from 45 minutes to 1 hour to complete 2 or 3 times, Hair stroke eyebrows tattooing takes only minutes. Along with the tattooing techniques of skilled craftsmen, you don't have to wait too long to own a beautiful eyebrow.
The current modern tattooing machines have thin needles with self-adjusting sensor systems. Engraving machines with ultra-thin needles offer many benefits such as:
Minimize damage to the skin surface
Traditional tattooing needles do not put tattoo ink beautifully with nano needles. Therefore, without having to go deep into the epidermis of the skin to eat ink, the hairstroke eyebrow tattooing machines still create seamless, uninterrupted lines.
The eyebrows are drawn evenly
The ultra-thin needle tip creates extremely thin, beautiful false eyebrows that look extremely natural. Ordinary needles do not have the same sharpness, making your eyebrows often clumped, creating dark and light places, very unsightly.
Difference between Hairstroke and Microblading in eyebrow tattooing
tattooing eyebrows
Microblading technique eyebrow tattoo
Microblading uses a hand tattooing knife, dipping into the ink jar and carving each strand on the client's skin. The technique only affects the epidermis of the skin, without swelling or too much pain, so the stability or coloration depends on many factors: customer location, tattooing technique, hairs like accuracy, workmanship. tattoo by technician,…
Microblading is suitable for creating hairs like to fill in the missing / empty, sparse eyebrows, helping to widen and improve the eyebrow shape.
After the first time tattooing Microblading, Customers have to go and adjust and perfect it once after about 1 month. After about 6-8 months, customers can repeat the color for the fibers to keep the eyebrow shape and color as desired.
Microblading is only suitable for people with normal skin and dry skin, but with oily skin, it will be easy to fade, color fades quickly, and it is difficult to keep fibers.
Hairstroke technique eyebrow tattooing
Unlike Microblading, Hair stroke eyebrows uses a cosmetic needles machine that incorporates a microscopic nano-needle to deliver ink into the skin. Minimize skin damage, bleeding or swelling.
Hairstroke is superior to Microblading in terms of product perfection, eyebrows look natural, it is difficult to distinguish which is real and which is fake.
Hairstroke brings long curved eyebrows, thin strokes and soft curves in the available eyebrow direction.
In order for this technique to achieve the most perfection on the customer's eyebrows, the technician must have high professional skills, meticulousness and accuracy.
When compared to Microblading, Hairstroke has improved most of the weaknesses, superior in both efficiency and duration of use:
The eyebrow product after peeling off limits the possibility of fiber expansion, breakage or fading ink color.
Keeps color on skin well and lasts longer over time
Suitable for all skin types, including thin and oily skin
You will be advised to reapply color after Hairstroke at about 9-12 months.
Hairstroke technical tattooing yarn looks more natural, softer
Tattooing eyebrows Hairstroke will follow these basic steps:
Step 1: Advise customers on eyebrow styles that are suitable for the face, feng shui as well as the skeleton.
Step 2: Choose a dark or light tattoo ink color depending on the customer's preferences as well as skin tone.
Step 3: Clean the technician's eyebrow and hand tattooing tools. Make sure everything is sterile for the best quality brows.
Step 4: Anesthetize to relieve pain for about 15 to 20 minutes.
Step 5: Conduct eyebrow tattooing . Professionals will use a specialized hairstroke tattooing machine to meticulously draw each eyebrow. The nano needles glide smoothly on the skin, causing no swelling, no pain, so you can rest assured. This step takes about 30 to 40 minutes depending on the condition of the customer's eyebrows.
Step 6: Check tattoo ink color. After the tattooing is completed, the customer will directly check the ink color to see if the quality is satisfactory.
Step 7: Survey customers. The tattoo artist will carefully instruct the customer on how to clean, maintain and care after tattooing .

Prestigious eyebrow tattooing address
Hairstroke eyebrow tattooing technique requires a technician to be meticulous and careful with each ink line, so choosing a reputable eyebrow sculpting address is very necessary. One of the following criteria will help you choose the most suitable Hairstroke eyebrow tattooing place.
Tattooing requires a technician
Each eyebrow drawing requires attention, aesthetic eye as well as high skill level of the technician to help you own natural eyebrows with hairstroke tattooing technique.
High quality tattooing machine
When tattooing eyebrows, Nano hair stroke technique requires the cosmetology unit to equip a sculpting machine using a micro-needle with good quality to perform.
eyebrow tattoo
Why choose eyebrow tattoo at BONNA BEAUTY?
BONNA Beauty Salon meets those conditions, you can feel secure when using our services without worrying about any risks.
tattooing technique – Hair stroke eyebrows tattooing is transferred directly from abroad.
Professional tattoo sprayer – sculptor with many years of experience, certificated and trained.
Modern equipment and machinery imported from the United States, Europe, Korea, Japan,…
Beauty at an economical price, commensurate with the quality of professional and classy services.
Understand and advise exactly the model, tattoo ink colour in accordance with the aesthetic style of each customer.
Fast, safe, no side effects.
Long-lasting effect: using tattoo ink of natural origin, high quality and durable over time.
The same way of professional, classy, ​​dedicated service and a cozy and comfortable green space will help customers fully enjoy the feeling of relaxation and comfort when experiencing beauty services.
During the past time, BONNA BEAUTY has successfully sculpted thousands of male and female eyebrow cosmetic cases, bringing customers radiant beauty in every line with reasonable service costs, ensuring to bring customers the best results. Customers with a beautiful eyebrow shape, optimal aesthetic effect are completely worthy for customers to "send their trust".
The trust and satisfaction of customers is the driving force for BONNA Beauty Salon to constantly develop 5-star beauty services to help you stay beautiful and confident in life.
25 reviews on
Kylie is a very experienced eyelash queen. I have very minimal lashes and she makes them look thick and amazing evey time..her home salon is beautiful and welcoming..
Danica Ven Mabaylan
2022-07-17
Kylie did a magnificent job with my eyelashes, She delivered professional knowledge, I just trust her because I know she would do the best to her clients. I highly recommend everyone!
I'm in love with my new eyelashes, they look so pretty and natural. High recommend for everyone because prices are reasonable and service is great! Plus, Kylie is very nice and friendly, she always gives me good vibes whenever I be there. Her salon provides a wide range of services (eyebrows, eyelashes, lips, make-up), come to Bonna beauty - Yagoona, Bankstown and get your beauty shine more than ever.
Love my eyelashes just what i wanted 😍, my go to place since i first visited 😊. I been 3 times since always amazing work thanks 😊
❤️❤️OMG I LOVE DONE MY EYELASHES WITH KYLIE 🥰 LOVVVVVVEEEEEEEEEE HER WORK
I've been going to Kylie for my eyelash extensions for a couple of years now and I am always really pleased with the results. She's very friendly, professional and has a great studio!
Have been trying to find a place for eyelash extensions for a long time, and until I found this place here in Bankstown, I had also tried a few places that are 'supposed' to be good but not really.
Lucinda Birnie
2022-06-30
I'm an old client and I've been getting eyelashes extensions from Kylie for many times now! She is incredibly professional and a perfectionist at what she does! Her work is always outstanding and I've never walked out unhappy.
Wallace Janelle
2022-06-29
The staff is always cheerful and friendly. I was worried about getting eyelash extensions at first but now that I have been here I don't have to worry about that anymore! Thanks to them I am able to get my eyelashes done every 2 weeks.